The Wire
Many of you know my love for HBO's "The Wire". Some of you have tried watching it and found it too hard to follow or too dark and depressing. Others just assumed its another 'Law and Order' and not bothered. The show is currently in its fifth and final season and to try and catch up now would require daily trips to Blockbuster renting the first four season's DVDs and starting to watch now is probably pointless but if you're curious as to what you've missed
this Sunday's episode is the best in the entire series and one of the best episodes of any show I've ever watched.
I'll try to set it up as best I can by going through the massive cast (or at least the ones whose stories are told on Sunday).
Mayor Thomas Carcetti
is in his second year of his first term as Mayor of Baltimore a predominantly Black city with high crime, poverty and a school budget crisis that has forced him to cut other departments in the city including the police, even though he campaigned on a reduction of the crime rate.
Commissioner Ervin Burrell
Commissioner of the Baltimore Police Department is responsible for that reduction in crime that has not happened. Burrell falsely reported a slight drop in crime even though there was a slight increase. Burrell was not a favorite of Carcetti before his election but he kept him in place due to the political ramifications of a white Mayor firing a Black Police Commissioner. Carcetti knows Burrell's numbers were false and has now moved to replace him.
Deputy Commissioner William Rawls
a disingenuous police officer who puts more value in crime statistics than thorough police work but has savvy in working politicians and his police department but knows he can only get so high being white in Baltimore.
Colonel Cedric Daniels
former Lieutenant in charge of the Major Crimes Unit in the first three seasons. His passion for quality felony arrests has caught the eye of Carcetti and sees him as a future Commissioner.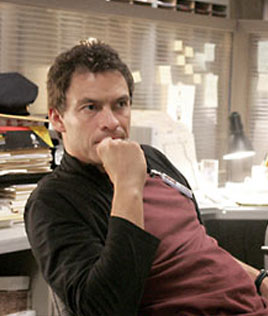 Detective Jimmy McNulty
is the central character in The Wire if there is one. McNulty is a former patrol officer with a passion for solving murders at the risk of appearing insubordinate to his statistics focused superiors. His police career has taken him all over Baltimore and coincidentally or perhaps not taken him in and out of alcoholism and sex addiction. He is currently trying to stage a serial killing spree using previous homeless DOA's as a means to get the closed investigation of Marlo Stanfield reopened.
Detective Lester Freamon
is McNulty's longtime colleague in Major Crimes. He too shares McNulty's itch to solve the Stanfield investigation even though he is currently on a "career case" fraud investigation of Baltimore's State Senator.
Detective Bunk Moreland
is McNulty's best friend in the department and drinking buddy. He was the primary detective on the Stanfield investigation but does not agree with the serial killer plot that McNulty and Freamon are staging.
Marlo Stanfield
is head of West Baltimore's drug operation after taking most corners from Avon Barksdale's crew after Avon's arrest. On his way to the top his people killed almost two dozen people and put their bodies in vacant homes which weren't discovered until the end of last season (this is the Stanfield investigation). He reluctantly joined the rest of Baltimore's drug dealers in the "New Day Co-op" but did so after being robbed at gunpoint by Omar. He is currently relying on them to launder his drug money.
Proposition Joe
is the head of the "New Day Co-op" that shares premium cocaine and heroine smuggled by "The Greeks" while respecting established territories (Prop Joe represents East Baltimore). He runs a clock fixing shop and is VERY FAT. He is named "Proposition Joe" for his tendency to negotiate opportunities for him and the Co-op.
Omar Little
, homosexual, sort of a "Gangster Robin Hood". He steals drugs and money from the city's drug dealers. After a tip from Prop Joe he hijacked Marlo's entire heroin stash last season before "retiring" in the Caribbean. Marlo had his friend and mentor Butchie killed as a means of bringing him back to Baltimore.