Super Bowl XLII
Today is Super Bowl XLII. Super Bowl Sunday is a uniquely American tradition that I celebrate no matter which teams are involved. I won't lie this football season has been a trying one as my Broncos rebuild, my local team has had the best season in NFL history in a year where I thought one acquisition would destroy all they had built. The local media here covers the Patriots like a bunch of 11 year old girls covering Hannah Montana, except this year the Patriots are as successful and its hard to say most of the ass kissing they get isn't warranted. With that said, and granting that I loathe the New York sports fan almost as much as anyone, I am pulling for the Giants in this game. Few things would satisfy me more than listening to WEEI, reading those assholes at Bar Stool Sports, or watching the local news stations here scramble to find something else to cover all next week.
Speaking of local news stations. You must check out
Scott's recap of Super Bowl Week
including scandalous pictures of every woman named Ines at Media Day. I can't wait til he gets back East to debate whether or not Ines Sainz has a great ass (hint to my position: Shakira has a great ass, Stacy Kielber has a great ass, this chick just has all her fat in one place).
Back to the game. It'd be great to see a Giant upset here but I don't see it happening. This just feels like too many Super Bowls I grew up watching in the 80's and 90's where it was the AFC team everyone was talking into having a chance for two weeks and the NFC team leaning on a whole season being the best team in football to draw confidence from and cementing their place in history. Upsets do happen in the Super Bowl but not to this magnitude, where the dominant team of the year just shits their pants and lets themselves get beat. At least since the merger anyway. This Patriots team seems like the last team that'll happen too. And I'm not even talking about
this latest spygate scandal
. Although I'm sure Vegas took a lot of Patriots action over the past 24 hours. If Eli Manning does play better away from the scrutiny of New York than how should we expect him to play well in Super Bowl scrutiny? The Giants secondary is banged up and New England's offensive line is the best unit in the NFL. They are more likely to frustrate the Giants defensive line than the Giants defensive line frustrating Tom Brady.
Score Prediction: New England 42, New York Giants 10
Bettingwise, personally I have two GREAT squares this year (NE 7, NYG 3 and NE 4, NYG 0) that will hopefully win me some cash to ease my misery. For those of you making donations to Las Vegas by betting on the fun "Proposition Bets" here's a handful to keep you interested.
Coin Toss:
Giants -150
.
9 out of the past 11 Super Bowl Champions
have lost the coin toss. So if you're betting the Patriots to win, bet the Giants to win the coin toss.
Will the Giants score a First Half Rushing Touchdown?:
Yes +135
If the Giants do score a touchdown in the first half when New England likes to let you hang around before Belichick drops the hammer in the second half it will be by either Brandon Jacobs or Ahmad Bradshaw exposing the aging run defense of the Patriots.
What will Eli Manning Throw First:
Interception +110
Even though Manning hasn't thrown an INT all postseason, I'm suprised this is the winning bet. Assante Samuel will make a lot of money this offseason for his ability to jump routes and Plaxico Burress is known for giving up on routes too soon (especially since he's banged up) I just see one of thses type of plays happening before Eli Manning is trusted in the red zone in a Super Bowl.
Laurence Maroney rushing yards:
Over 82.5
Since no Fantasy games are riding on his performance (that I know of). Koolaid will go nuts.
First Player to Score:
Heath Evans 18-1
If you're going to be stupid enough to bet this, you might as well bet the longshot. And a goalline fullback is as good of a "longshot" as I can think of.
So enjoy the Super Bowl as I enjoy the end of a painful football season. And to the Patriots, in the words of The Wire's Slim Charles at Omar's gunpoint "Do what you gotta do, just finish it!"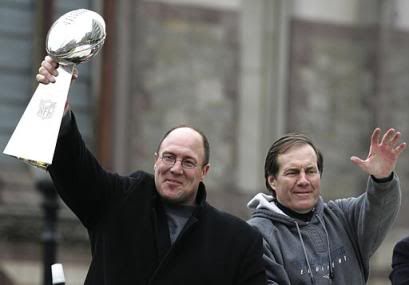 Labels: America's Game, Boston News, NFL, Super Bowl XLII